The best of all booty band recommendations is here. You might be wondering what real purpose is served by a booty resistance band? We will tell you.
These bands are used to perform any of the wide stance movements like that sumo squats and lunges in a perfect manner.
Furthermore, these progressions bands are an ideal option if you love doing hip thrusts and also kick back moves.
These bands are made of durable and high-quality materials. They never break or roll. They never stretch out and last for years. All in all, they are a perfect and ideal resistance band version for doing any of the glute training workouts.
In addition, share with us what kind of resistance bands you use and in what way they make your workouts more effective. And feel free to read out the details on the Best Butt Enhancement Creams and the from here.
What

Are

Booty Bands?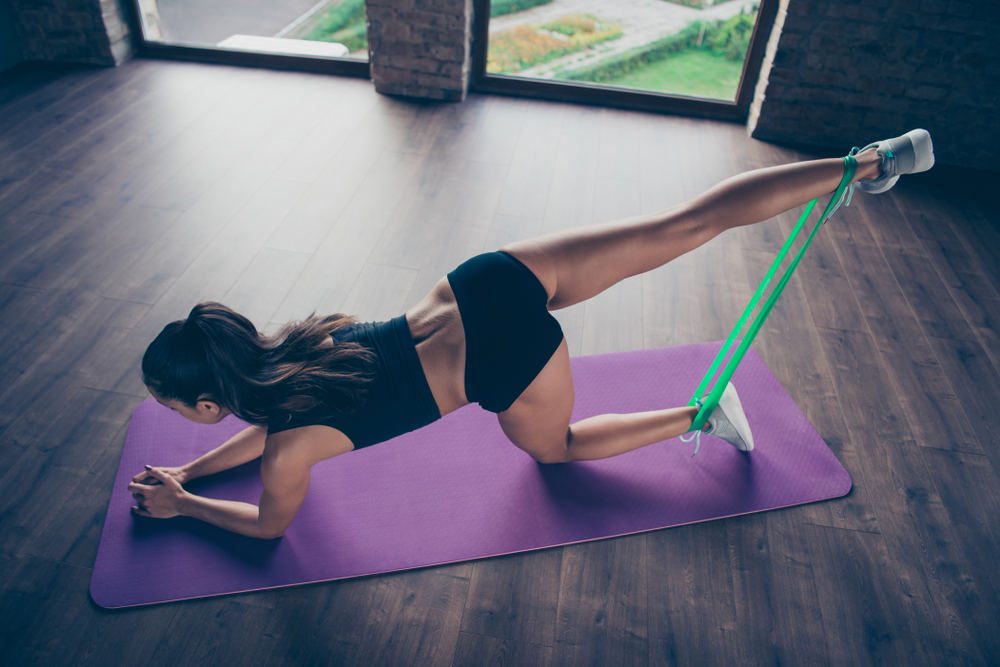 Booty bands give a suitable and enough amount of tension to the user if she is performing any of the tough and difficult workout exercises. High-quality bands do not roll-up.
They do not give you a painful experience. Most importantly, they are made of soft as well as durable materials so that your workout may not get interrupted at any cost.
If you want to keep your workout in progress, then always use a resistance band.
In addition, these bands upgrade and intensify your glute workout sessions. To get stronger legs and hips and lifted booty, using a fabric hip band is a must for you.
Most of the people have now started using these resistance bands during their fitness training sessions. These bands increase the strength and mobility zone of your exercises. They even amplify your stamina and physical appearance quickly and fast.
Types

of

Booty Bands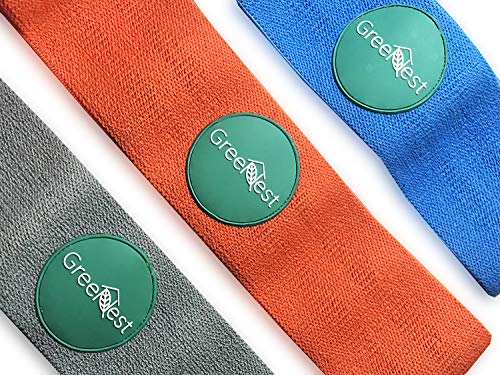 There are lots of resistance band types. Here we are going to give you the details about them:
Circle Booty Band
The first one we have a circle resistance band for you. This band comprises a simple wideband loop design. Moreover, they are wrapped all-around your ankle or around your knee area.
By using them, you can easily perform and carry out all kinds of glute exercises.
Double Loop Resistance Band
Secondly, we have double loo resistance band for you. It is composed of a two-loop band system. These bands are encompassed by a tubular design.
Moreover, they are narrow as well as thick in terms of construction. Besides, many of them are made of flexible silicone material or latex rubber material so that more of the resistance can be given to you during your exercise times.
Waist Belt Resistance Band
This booty band comes with an additional waist belt. The best part about this resistance band is that you can easily adjust it according to your body size.
Most importantly, this band gives you more freedom while you move or stretch out your hands and knees.
Hence, if you want to make your booty shaping workout experience more effective, then such a resistance band should be used by you.
Occlusion Circle Booty Resistance Band
Lastly, we have the Occlusion Circle Booty Resistance Band for you. It is way far better in terms of functionality and practicality when compared with the rest of the resistance bands.
It is made of stretchable fabric. Which is usually and generally placed at the top side of each leg simultaneously.
However, these bands are specifically and commonly used if you want to perform any sort of lower body exercises like that of weighted squats, bodyweight squats or be it lunges.
Benefits

of Booty Bands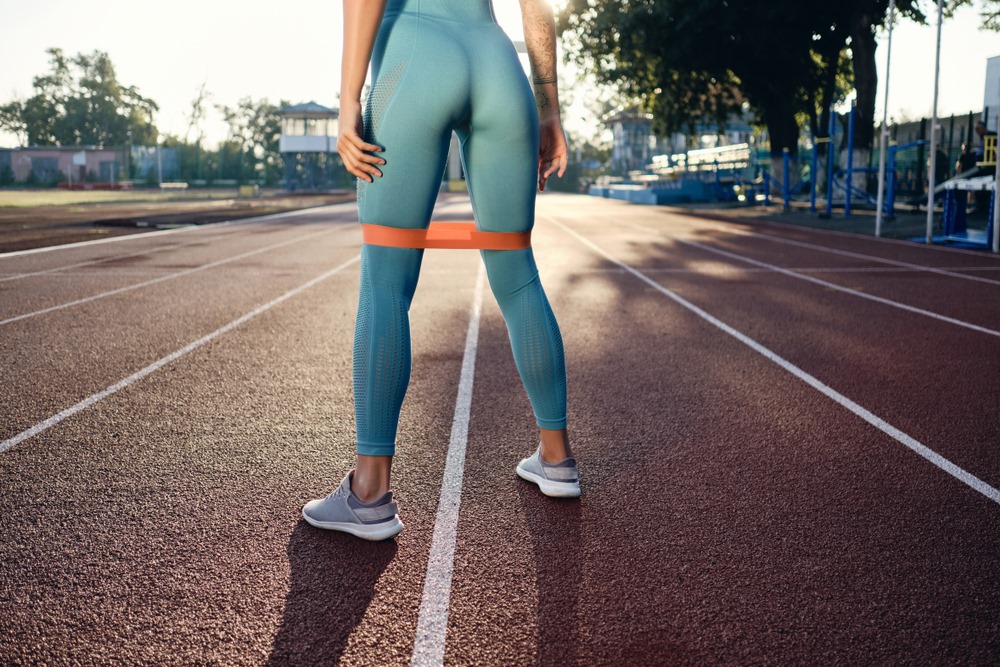 Booty resistance bands are specifically used to build up your glutes in an effective way. These bands allow a wide and extensive range of tension levels. And thus makes your bum lifting exercises double effective and result-driven.
For performing squats and lunges, using these bands is an ideal and feasible option for you. These bands usually come and made in the form of a circular design.
For the reason that they give resistance in both of the vertical and horizontal directions.
Most certainly, it is these bum resistance bands that engage every single buttock muscle of yours. In other words, your booty muscles are engaged and involved from various angles upon using a booty band.
Hence, booty bands genuinely work and strengthen your butt as one unit.
What

to

Look Before Buying a Perfect Booty Band?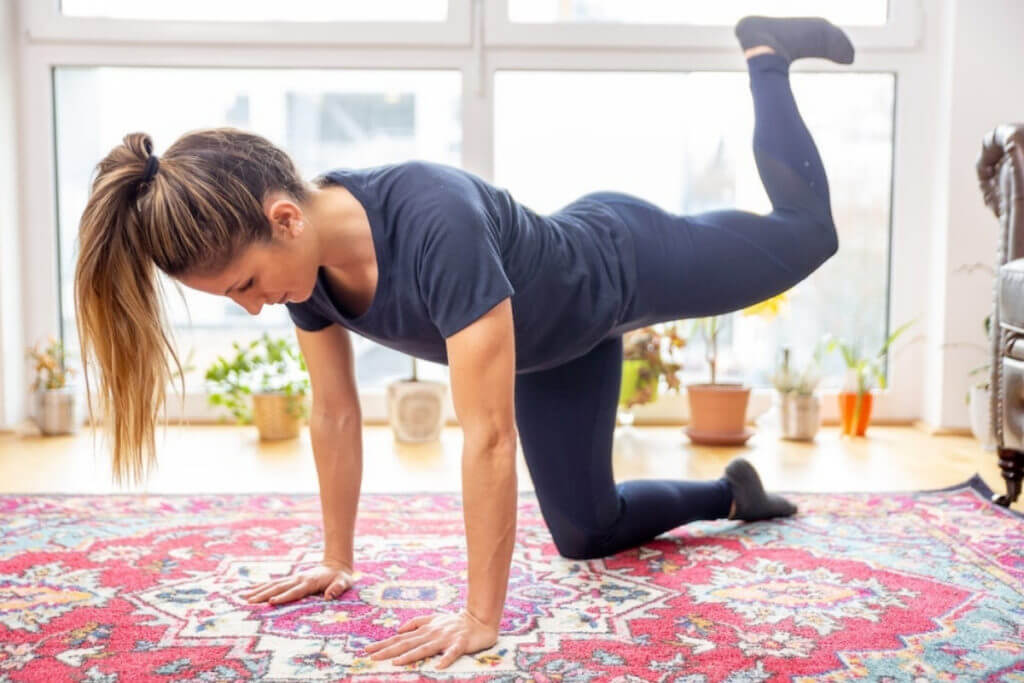 No Rolling Up
If you want to buy a hip resistance fabric band, then make sure it does not roll-up. It should offer features like that of crochet, tightness and also tidiness.
That band should be ultra-durable.. If it is made of latex silk, then that is great. All in all, your exercise bands should be packed with good elasticity. They should not get easily deformed.
No Slipping
Most probably, try to grab that resistance band which does not slip from your ankles and knees. It should be surrounded by a medial double-layer kind of anti-slipping silicone stripes.
Besides, if your chosen exercise band has wavy sort of anti-slipping lines, then it means your training posture will always remain more stable.
Skin Friendly
In addition, always buy that booty band which is skin-friendly. It needs to have three inches widened kind of design so that proper force and tension can be exerted from its side.
Even more, its skin-friendly and wide design avoids rolling up.
High-Quality
Get hold of those kinds of exercise bands which are made of soft cotton and polyester fabrics. They should not give you any itchy time when you wear them for the first time. Besides, they should be available in lots of different sizes too.
Arena Strength Booty Fabric Band does not roll, slide or break. And this is the USP trait of this resistance band. It has passed multiple numbers of rigorous and tough testing modes.
This is an incredibly comfortable band that you must use while performing and doing your glute training workout sessions. Most importantly, the presence of inner grip strips keeps the band at is a place.
You will get a full money-back guarantee and 12-month replacement warranty along buying this band. So, what have you decided?
We have given our thumbs up to this Arena Strength Booty Fabric Band. You can buy it too and have a great time while doing your lower body bum shaping workout.
Pros:
It does not roll, slide, or break.
Incredibly comfortable.
Full money-back guarantee.
12-month replacement warranty.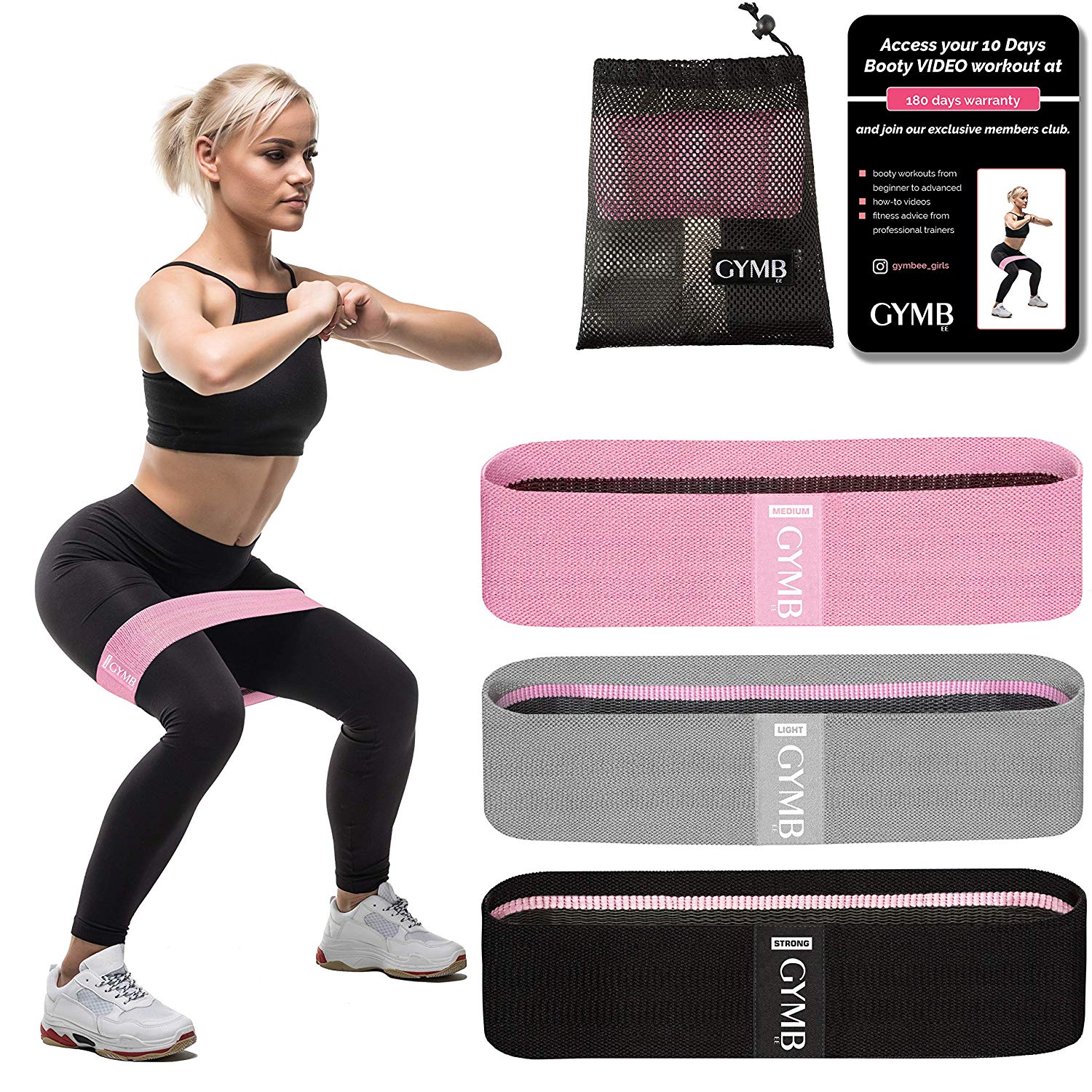 Gumbee Booty Band is the name of extra durability. This is an ideal band for all those who are at a beginner level. To step up and amplify your booty shaping game, then this is the correct and required resistance band which you should go for.
Most probably, this band will suit your needs as it is wider in design and shape as compared to the other regular thrust bands. It is embossed with robust stitching and too premium fabric.
Lastly, upon buying this band, you will get a carry bag and also 1x exercise printed booklet. It is backed with 180 days full refund time, so go and get your resistance band right now.
Do share your reviews with us no matter you have a good time or a bad time with this Gumbee Booty Band.
Pros:
It does not roll up.
Wider than the rest of the regular thrust bands.
Packed with robust stitching.
Made of the finest materials.
Also, we have SOUDIO Advanced Booty Band for you. If you wish to get a glamorous looking butt, then make sure to infuse your exercises by using this glute band. It is great to be used for lower body exercises.
We are confident that upon using this booty band, you will be able to get a sexy physique. In addition to, it is highly and exceptionally recommended by physicians and top most physical therapists.
Thus, start building your glute strength and involve your body in some proactive strengthening modes by using this fabric band. You can even use it while doing an upper-body workout.
So, what else you want from any resistance band? Try this SOUDIO Advanced Booty Band and give us your rating.
Pros:
Highly recommended by expert physicians.
Ideal for the upper body workout as well.
Easy to use.
High-quality elastic material.
Cons:
Lacks a friendly after sale service.
Recredo Non Slip Resistance Band comes on the seventh spot. This is a non slippery and thickened hip resistance band. It is made of superior fabric and it can easily assist and help you in doing lots of different exercises.
Furthermore, no matter you are doing CrossFit, Yoga or Pilates, hot yoga, then do use this resistance band always. Moreover, if you love doing beach body workouts, then using this band is highly recommended.
This band comes and available in different sizes. You will get a lifetime warranty and full Money Back Guarantee if you buy this Recredo Non Slip Resistance Band.
Pros:
Thickened and easy to use.
Perfect Set of 3 sizes.
Lifetime Warranty.
Passed rigorous testing.
Cons:
Its fabric is not sweat-proof.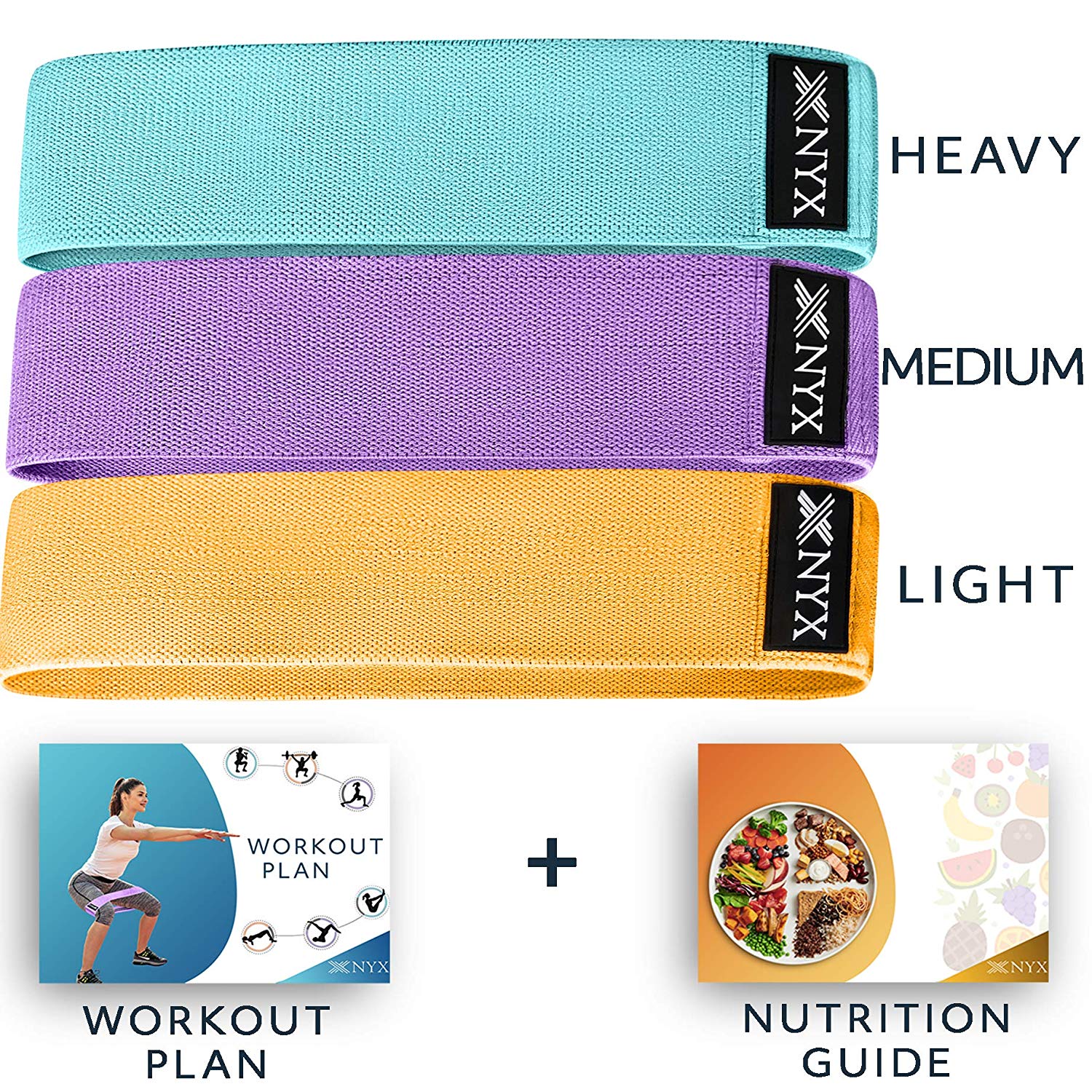 However, you may try out this NYX Fitness Fabric Resistance Band too. This resistance band offer and deliver three varied resistance levels. It can naturally sculpt your booty and gives you bigger hips.
If you love doing CrossFit, P90X, and pilates, then always use this exclusively reviewed booty band. Most importantly, this band allows all of your lower body major muscles to get active.
It activates your glutes, abs and hip flexors, quads. Its tone and activates your thighs and calves. This band is made in the USA. It does not slide or ever roll up because of the two lines of extra grip stitched on it.
Hence, buy this band because you can comfortably wear it on bare skin as well. The package comes with a workout guide, so do read it.
Pros:
Works well with your lower body major muscles.
Made in the USA.
2 lines of extra grip stitched on it.
Comes with a Workout Guide.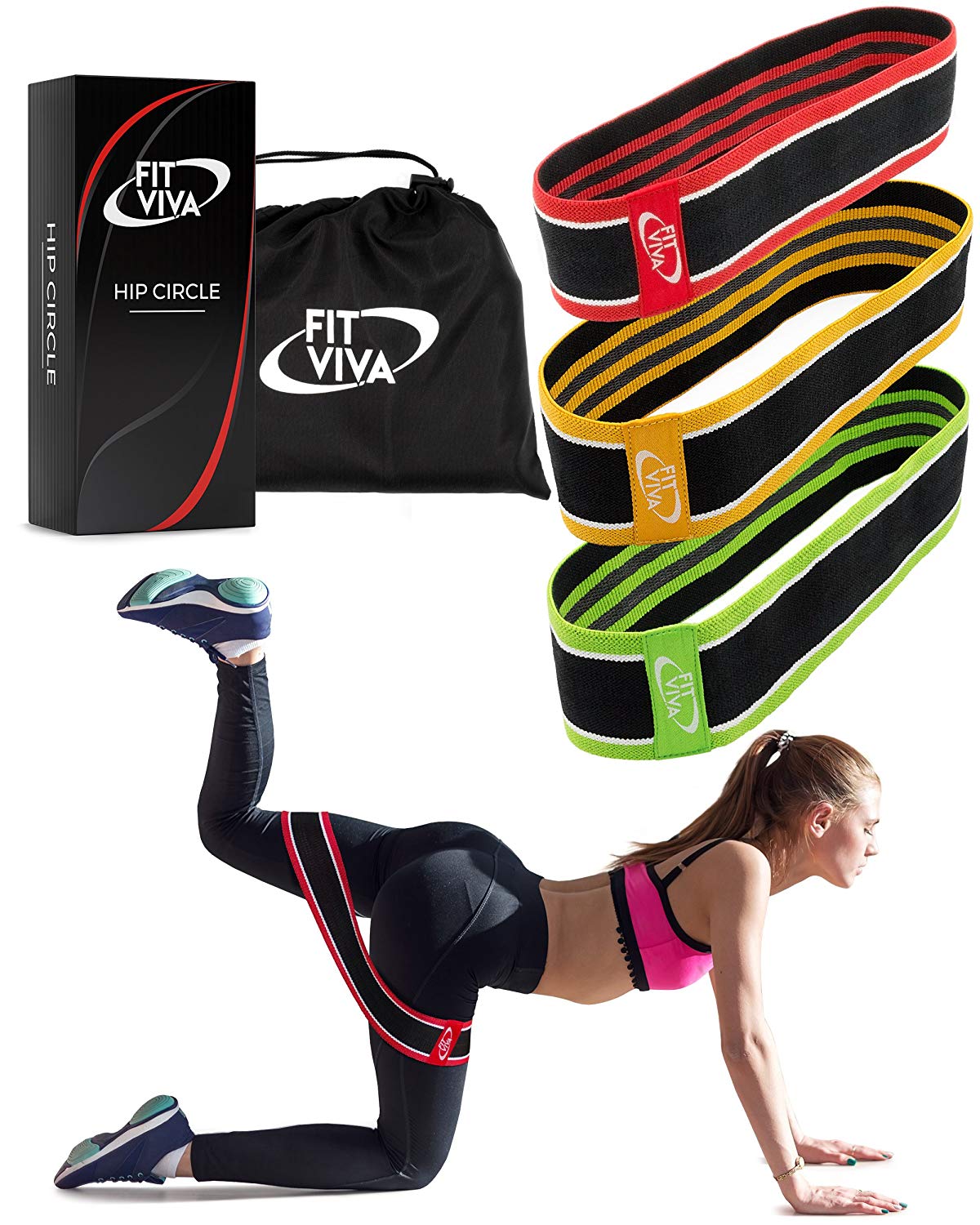 Most certainly, you will positively review this Fit Viva Fabric Resistance Bands Set. This is a skin-friendly resistance band and we are confident that you are going to love it.
It improves your squat posture and this is the amazing thing about it. This reviewed band has got thumbs up from top most physical therapists.
Most probably, it is due to the thick durable material and double-sewn seams that this band is never going to rip or tear. Apart from doing booty workouts, you can utilize this band to tone your legs.
It is made to improve and boost your hip flexibility. Moreover, for warming up your whole and entire body, you can use this band. Hence, this is a must-have fitness accessory which you need to buy now.
Pros:
Improve your squat form.
Recommended by top physical therapists.
Made of thick durable material.
Multifunctional.
Cons:
You cannot wear it on bare skin.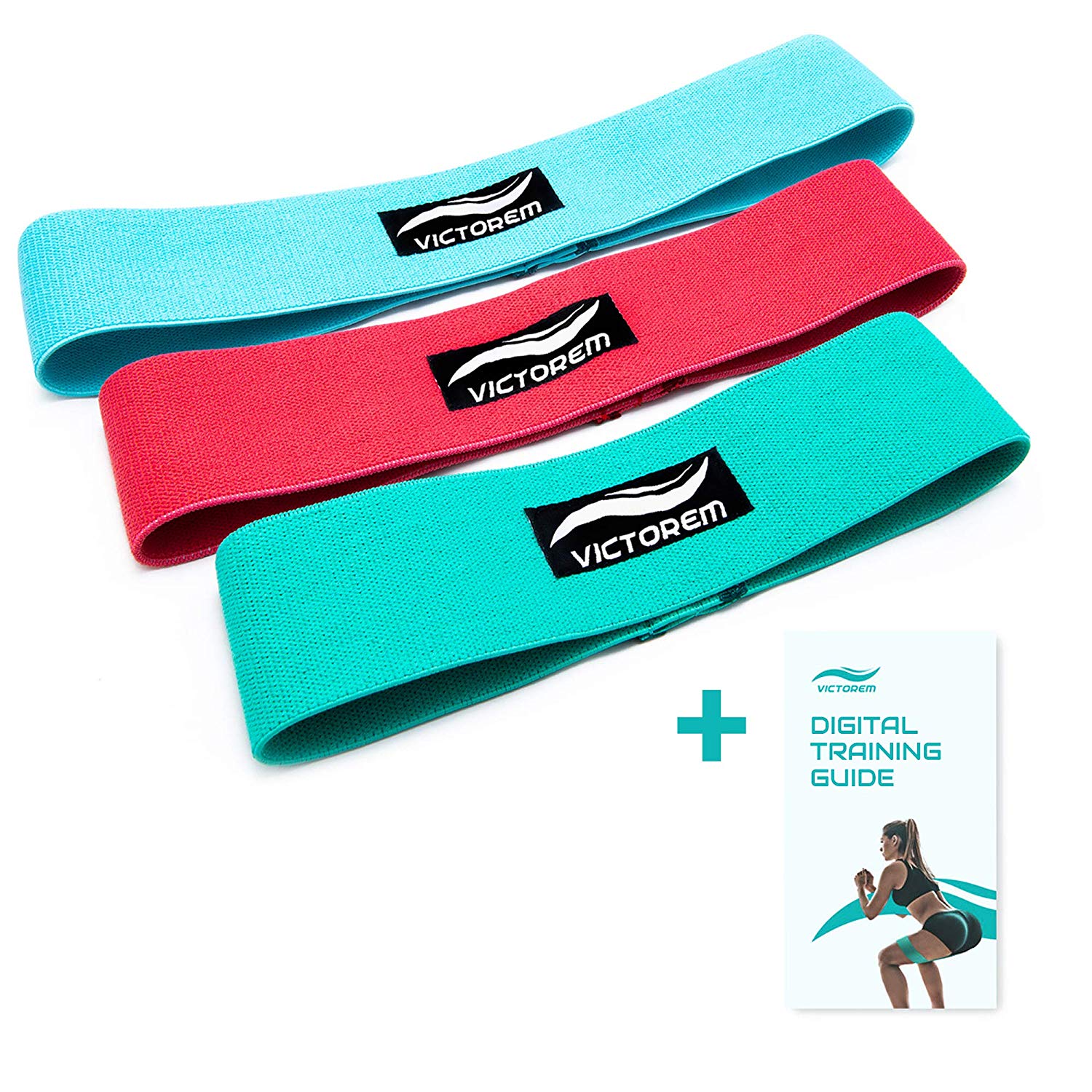 Another recommendation we have for you, it is this Victorem Resistance Hip Booty Bands Set. This is a great and ideal looking resistance band set for doing a multiple numbers of lower body exercise movements.
It does not roll up unlike the rest of the latex loop bands. In addition to, you can specifically use this band for the purpose of glute and hip activation.
For warming up sessions, this is an ideal resistance band type. Besides, it can assist you in an ideal way if you want to perform P90x, Insanity, Pilates.
Thus, order this fabric band because it is made by a trusted brand. You will get a sporty carrying case along with the product so that you can easily carry this resistance band anywhere with you.
Pros:
Ideal for multiple and different exercise movements.
Best for glute and hip activation.
Available in a sporty carrying case.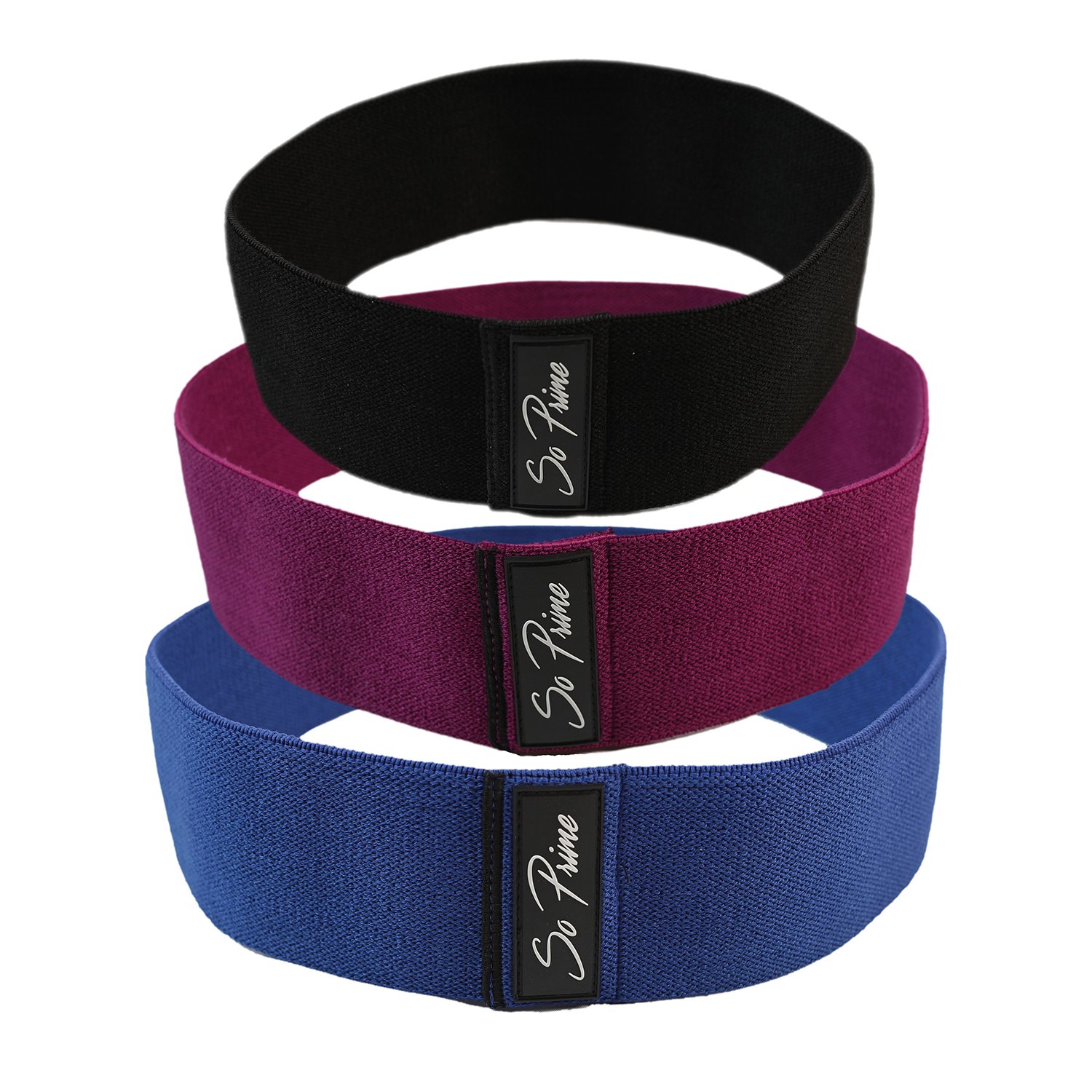 How about buying and ordering this So Prime Booty Resistance Bands? You will simply love this resistance band. It comes and available in the compact and portable kind of mesh carry bag.
It means this is a great band for travel times. Moreover, it comes in three forms. You will get a high resistance band and a medium resistance band and also a low resistance band.
It easily targets your entire and whole lower body muscle group. Like to activate your Glutes, Adductors and to tone your Abductors, Hip Flexors, you need to use and avail this band.
Even more, this band is the name of comfort and durability. It is made of a soft fabric and gives you a comfortable feel on your skin.
Lastly, it is backed and supported by the manufacturer's 30-day money-back guarantee time.
Pros:
Comes with a compact mesh carry bag.
Targets all your lower body important muscles.
Made of soft fabric.
1 year free replacement warranty
Cons:
Not suitable for upper body workout.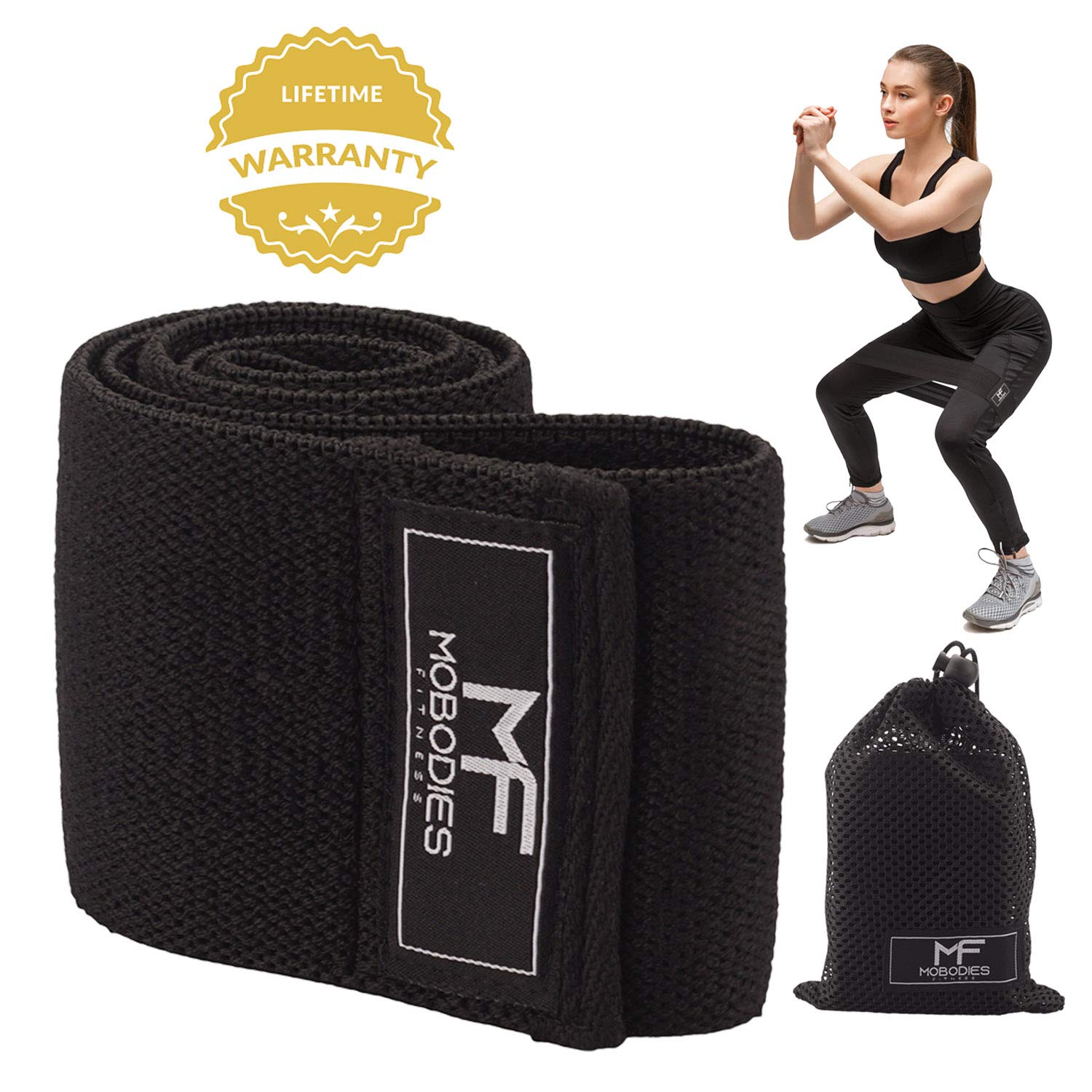 PPwer Hip Band Booty Resistance Band is assigned the second spot from our expert's side. Note down that this hip resistance band comprises a wide flat design.
It is made by using a soft polyester cotton. It does not ever roll up or interrupt your workout sessions. Most probably, you will prefer to buy this brand because it is available in three different levels.
To activate your glutes, legs and the rest of the muscle group, this is an ideal band for you. In addition to, this band has the potential to upgrade and improve your glutes workout.
At the same time, it prevents injuries. Thus, to improve your muscle groups and to strengthen your hips, glutes and hamstrings- this is the right resistance band for you.
By using its carrying bag, you can take it almost everywhere.
Pros:
No slip.
Offer 3 different levels.
Improves your booty muscle group.
Gives a 3-year warranty time.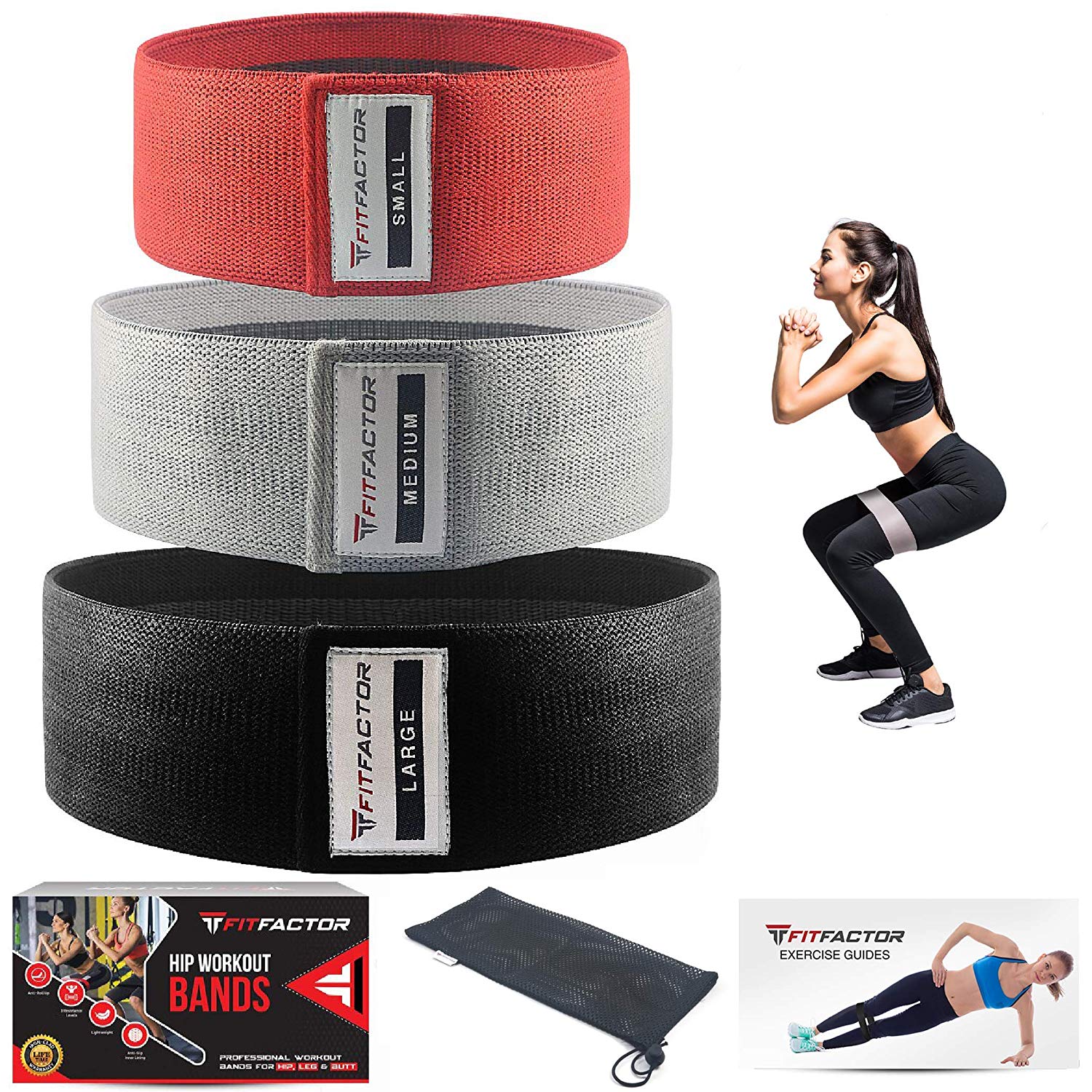 Finally, on the top spot, we have Fit Factor Glute Bands for you. This is a set of three resistance bands that are made of extra-thick wide fabric.
To sculpt and tone your booty, this is one of the desirable resistance bands which you should use. Most certainly, you may get impressed from this glute band because it gives out more durability and at the same time, it is incredibly stretchy.
This band is the name of comfortable use. It eve increases your mobility, stamina. This band can help you getting tight muscles. Lastly, the band comes with a carrying bag. And you will also get a detailed instruction manual.
The presence of bag let you use this resistance band anywhere you want to! Enjoy Lifetime Warranty upon buying it.
Pros:
Consist of 3 glutes exercise bands.
Incredibly stretchy.
Boost ad increase mobility.
Comes with a detailed instruction manual.
Are

Glute

Bands Effective?
The importance of glute bands cannot be denied. They are made to maximize your workout sessions. If you want to get a sculpted booty, then try using these bands.
They are designed in way to give you a perky booty in less time. Most probably, these bands make it easy for you to get a head-turning bum. They strengthen your core as well as maximize your gains.
At the same time, these bands maximize and amplify your workout potential. Hence, if you are a fitness enthusiast, then always use these resistance bands during your workout.
They help you build lean and also toned muscles quickly and easily. Lastly, they target all of your major muscles which are present in the lower body.
As an example, these glute bands firmly target and tone your Glutes, Adductors and too Hips, Abs and also your Hamstrings, and Calves
Best Booty Bands –

Buyer's Guide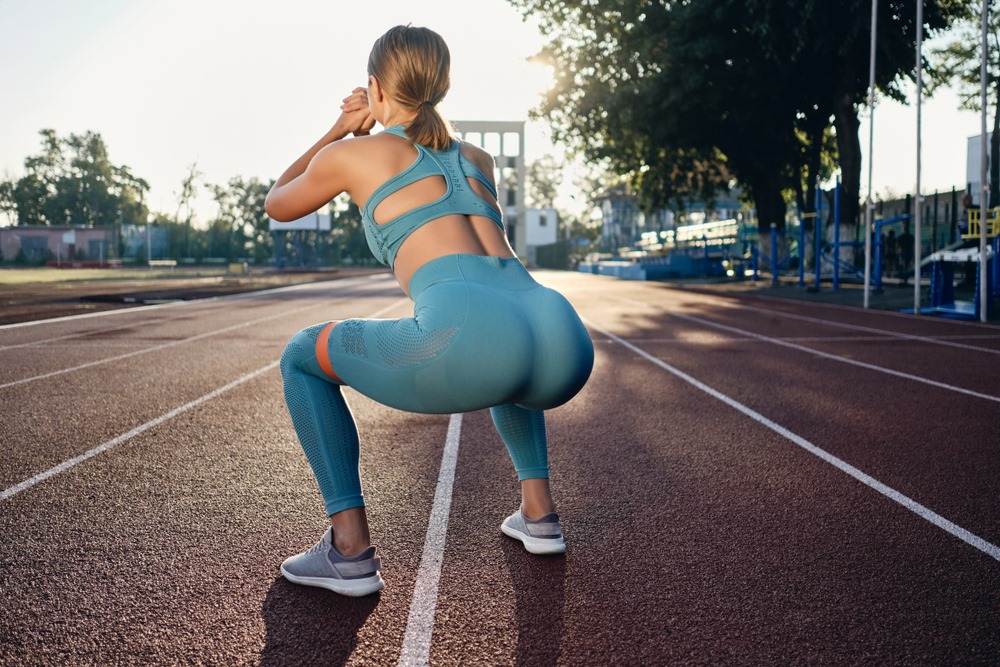 Extra Stability
You can buy that hip resistance band for yourself which offers you extra and additional stability during workout.
Like if your exercise band is wider in terms of design and if it is packed with inner grip strips, then your body will always remain stable during exercise.
Extra Durability
In addition, your resistance band should be built to last. It should offer extra durability. Look for the hip stretching band which is packed with robust stitching and made of premium fabrics.
We have seen that the heavy-duty resistance bands are always crafted and made with great attention. They are made of the finest materials.
Multi-Functional
Always buy that band which you can use for different workout sessions of yours. Like for stimulating and toning your legs, for strengthening your hips and glutes.
Most importantly, try to purchase that hip band which is only made for doing lower body exercises.
Easy to Use and Lifetime Warranty
Lastly, your chosen bum resistance band should be easy to use. No matter you are a beginner or you are an advanced user, your chosen band should not be tough to use.
And get that resistant band which has passed all rigorous testing stages and backed by Money Back Guarantee option too.
Conclusion –

Wrapping It Up!
So, what's the bottom line? Buy any of the resistance bands and make your workouts more hassle free and result-driven.
Furthermore, these booty resistance exercise bands can help you getting a glamorous looking butt in less time.
Moreover, they are simple to use. For your future workout butt lifting sessions, make sure to use a resistance band always. And share your feedback with us as well.