Underbutt is a little area where specifically and particularly your glutes and also your hamstrings are connected underneath your booty. You can even call this section as glute/ham tie in.
To begin with, let us check out the easy steps which are about underbutt ultimate booty workout. If this underbutt area of yours remains to stay not so toned and underworked, then it starts to develop fat on it.
Furthermore, it tends and prone to protrude and automatically gets in the shape of a banana roll. Moreover, to tone your underbutt, one needs to show a lot of patience.
Opt for clean eating routine and regularly perform certain glute/ham exercises. Hence, now let us read out the details of this easy to follow underbutt booty shaping workout plan.
What is
Underbutt

?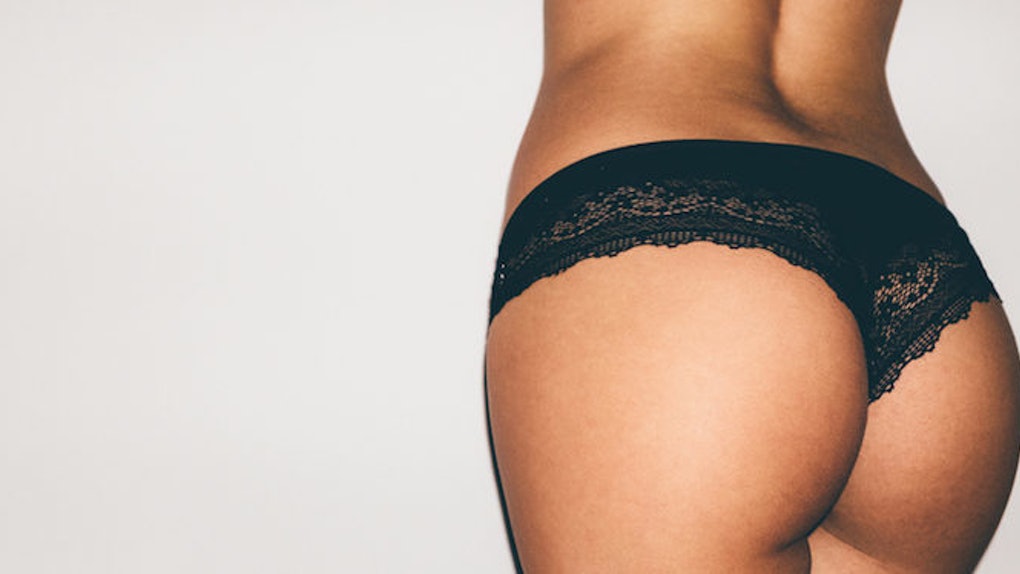 You might be wondering what specifically and exactly explains underbutt? We will tell you. Most probably, you can say that underbutt is basically and mainly the crease where your lower glutes, as well as your upper hamstrings, get to connect with each other.
If your underbutt muscles are toned and also strengthened, then it means your booty will eventually pop up and looks accentuating and curvy enough.
In addition, when your underbutt is strong and toned, then it improves your posture as well.
Toning your lower body gives you healthy joints and movement at the same time, Thus, strong glutes take all the pressure off from your knees and automatically helps you run faster and jump higher.
What Kind of Exercises to Perform to Tone your Underbutt?
It is advised to perform booty isolation exercises if want to strengthen your underbutt. However, there are lots of exercises made and structured for toning your legs and buns and they target your underbutt to some extent too.
But it is recommended to pursue those exercises and moves that isolate and only focus on your underbutt. Perform those workouts which need dumbbells.
Besides, keep on increasing the weight on your dumbbells after every two to three weeks so that you can gain healthy weight on your underbutt.
Thus, if planning to go for an underbust workout routine, you can do squats as much as you can.
Top Exercises for
Underbutt Booty

Workout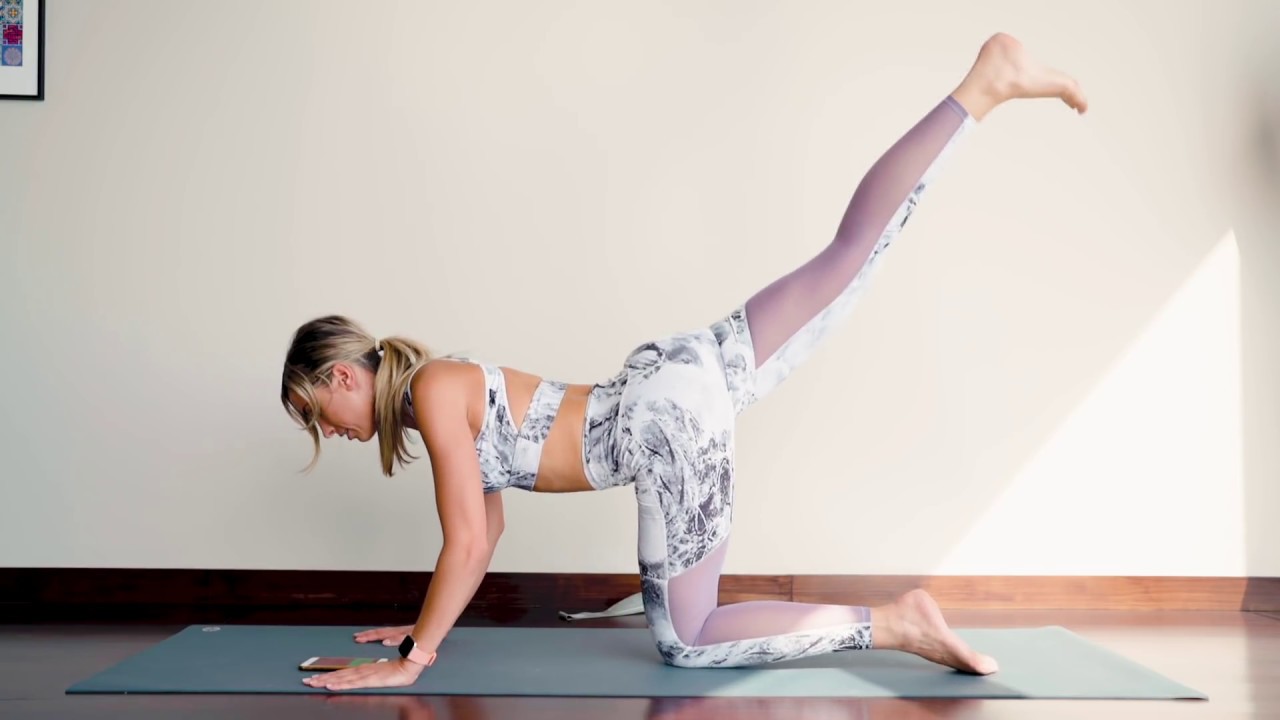 Want to know the best part of these below-mentioned underbutt toning exercises? They are highly effective and quick in terms of giving results. Lots of options and workout plans are mentioned below for you.
Try and pursue these challenges. And let us know which of the exercise gives you a toned and well-shaped underbutt. These exercises can easily be performed at home.
Most importantly, these exercises have the potential to strengthen your glutes and hamstrings. Perform these moves twice per week.
Lying Hamstring Curls
The first workout exercise which you can perform for the sake of toning your underbutt, it is by doing lying hamstring curls. To perform this move, you have to lie on your stomach.
Extend your legs fully and completely right behind you. Furthermore, bend your knees. And you also have to curl your legs up. Do that by squeezing your glutes as well.
The last step is to lower down and straight your legs by bringing back your body to the starting position.
Extended Side Kicks
In addition, upon performing extended sidekicks, you can quickly and naturally tone your underbutt. This is a fire packed move which can automatically take your underbutt and overall booty shape to the next burning level.
Beyond, this exercise has everything which your underbutt want. Apart from targeting your underbutt, it also tones your upper glutes. Most certainly, the first step is to extend your left leg.
Start to slowly swing it and complete the required and needed amount of reps. Perform the same move with your other leg.
Extended Glute Lift
Experts have recommended to going for extended glute lift exercise to those people who are serious enough to give a toned effect to their underbutt booty.
Doing this move will let you feel a heavy fire in your glutes. However, this exercise looks simple to do. But it is somewhat challenging. It contains the 100% potential to develop and tone your underbutt.
You can perform this exercise on your bed edge side or on the bench edge side. Just lie your face down. Keep your upper body on a bench and extend your legs. Most noteworthy, you have to keep on hovering your legs in midair and about 2 inches off the ground.
Also, straighten as well as raise your legs as much high as you can. Meanwhile, squeeze the glutes for about and around 2 to 3 seconds. The last and final step is to squeeze slowly and bring your body back in the starting position.
Banded Bridge March
Have you ever heard of this workout exercise named as Banded bridge march? It has the capacity to tone your underbutt in a healthy and natural style.
It is better to perform this workout with the help of a resistance band.
The resistance band is going to make this exercise more challenging. And you will get better results.
Most importantly, it is throughout the exercise that you have to maintain and retain tension in your glutes.
Put the band around both of your thighs and glutes. And raise them a few of the inches off the ground.
Firstly, raise your left leg towards your chest. Pause this move for about 1 to 2 seconds. Lower down your left leg and repeat this same move with your right leg.
Donkey Kicks
There is another effective exercise for building and developing your underbutt and it is this donkey kicks. To perform this under butt exercise, you have to get your body on all fours.
Keep your hands under your shoulders. Moreover, keep your knees under your hips. It is at a 90-degree angle that you have to keep up your right knee.
Now, slowly raise your leg and let your thigh to become almost parallel in position to the floor. Squeeze your glutes and pulse your flexed foot all towards the ceiling.
Thus, return back to the starting position and complete the rest of your reps.
Grasshoppers
Moving to some more of the easy to do underbutt toning exercises, you can do grasshoppers moves. You can start performing this exercise and respective move by laying face down.
It is better to do this move on an exercise mat.
Rest your forehead all on your arms. After that, start to bend your knees. And then you have to lift your feet up. Make them touch each other.
By indulging your body in this specific position, you will be able to engage your core and strengthen your glutes. Your hamstrings and lower back muscles will get toned too, Most probably, you need to lift your knees up away completely from the floor by almost 4 to 6 inches.
You can repeat the same movement and exercise again by lowering your knees to the floor.
Swivel Raises
Swivel raises move is easy to perform as well. To do it, get and enter your body on all fours. Or you can get into a pose and move as if you are about to perform a donkey kick exercise.
Firstly, extend one leg which is behind you. Your toes should be pointing right towards the floor. Furthermore, as soon as you lift your leg back up, do bring down your toes and make them touch the floor.
Moreover, turn your foot and also your hip outward. Now, you can touch the ground. And freely bring back your foot towards the ground. Do repeat this swivel motion for five to ten times so that a toned underbutt crease is achieved by you.
Bridge Walks
The list can go on and on when it comes to shaping, toning and strengthening the underbutt area. Among the most effective exercises, we have bridge walks exercise for you.
First of all, lie your body in a bridge position. Your knees should be propped up and keep your feet on the ground. Start lifting your booty up and firmly squeeze your glutes.
In addition, gradually walk your feet out approximately 6-12 inches. Moreover, lower down your bridge and lift. Finally, walk your feet all back in and repeat the same move.
One-Legged Glute Bridge
This workout plan also encompasses and packed with one-legged glute bridge exercise. It is specifically designed to tone your underbutt in less time and also in a natural manner.
The first step which you have to follow while doing this exercise is to lie on your back. Do place your hands on the floor. This is needed to make your body more stable.
Start bending your one leg and then you can lift the other leg all and completely towards the ceiling. Next, press your heel into the floor and slowly lift your pelvis up.
Make sure to keep your body entirely in a stiff bridge kind of position. Thus, this is how to perform and do one-legged glute bridge exercise. You can lower down your body to the floor so that you can repeat this same move.
4-Minute Underbutt Workout Session
If you want to get a stronger and more of a kind of lifted booty look, then try out this 4-minute workout session. This session will tell you as to how to work out my buttocks!
It is for 30 seconds time frame that you have to do squat walks. Move forward and backward by bringing your body in a squat pose. Upon doing squat walks, the person feels and experience that underbutt burning sensation intensely.
Then it for another 30 seconds that you need to perform squat pulses. To see the best results, make sure that you do not come out of the squat pose in between your moves.
After that, for a total one-minute duration, you have to perform Squat Walks plus Squat Pulses.
It means you have to stack both of the previous two exercises collectively and together.
Kneel Down and Stand for exactly 30 seconds.
Lastly, it is for 1 minute, 30 seconds duration that the person has to do Squat Walks plus Squat Pulses plus Kneel Down and Stand moves, Thus, this is how you can burn out and tone your underbutt. All these moves have to be performed in a sequence
How To Target UnderButt? | 8 KILLER BOOTY EXERCISES
5 Best Underbutt Shorts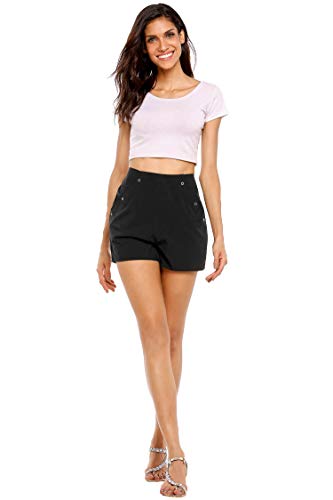 Zeagoo Women's High Rise underbutt shorts are normally and generally worn by women who are interested in giving an accentuated look to their butt.
These are cotton chino casual looking twill shorts. Most importantly, their fabric and composition are based on 66% Cotton, 31 %Terylene and 3% Spandex.
It carries an imported design. As they are made of soft cotton twill, for the reason that a super cool and chic effect will be given to your butt. There are buttons and other detailing present on it.
Most noteworthy, it has belt loops and also two front pockets. It is designed in a way so that all focus and attention can come on your underbutt.
Thus, try out these underbutt lounge shorts and get a cool retro look. They also encompass a flattering looking high waist design. These lightweight shorts are easy to dress up and style down.
Pros:
Made of soft cotton twill.
Button detail and Belt loops.
Two front pockets.
Gives a cool retro look.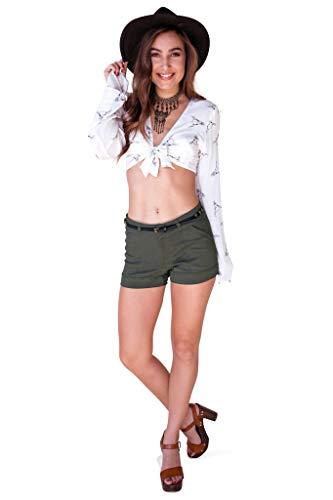 Bebop Womens High Waisted underbutt shorts shall be immensely loved by you. These shorts are specifically and exclusively designed to make your underbutt and overall bum curvy.
Make sure to get these underbutt shorts in the correct size. Otherwise, you may look bulky in them. Most certainly, these recommended underbutt shorts are made of 70% Rayon, 27% Nylon and 3% Spandex.
These are belted shorts and this the best thing about them. You can hand wash these shorts conveniently as well. Just give them a cold wash and lay them flat so that they can get dry quickly.
Thus, these underbutt belted shorts offer you an exciting way to welcome the time of spring and summer in the cutest and sexy way.
Pros:
Belted shorts.
Great quality.
Hand washable.
Cons:
Available in minimum size options.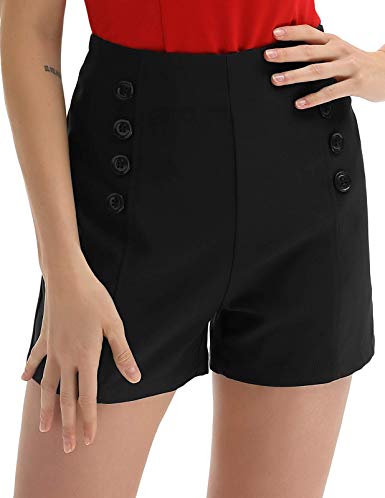 However, you can even try these Belle Poque Women High Waist Underbutt shorts. These are stretch shorts and gives a vintage look to you. Moreover, you can call them as sailor shorts.
Besides, these shorts are made of 95% Polyester and 5% Spandex. If you want to move and flaunt your butt in the most confident manner, then grab these suggested and reviewed underbutt shorts.
The catchy part about them is that they are made of ultrasoft as well as stretchy material. These are retro-inspired shorts. They are featured with vintage and elegant looking style aspect.
Even more, there is a total of 8 decoration buttons present on the front side of it. So, what's the bottom line? Get your hands on these flattering high-cut waist shorts and pair it up with some stylish looking crops top or an oversized sweater.
Pros:
Ultrasoft stretchy material.
8 decoration buttons.
A flattering looking high-cut waist.
Side zipper
HDE Women's High Waisted underbutt shorts comes on the fourth spot from our side. No doubt, these are sophisticated looking shorts which look extremely and immensely vintage-looking.
These top-class looking sailor shorts are made of 70% Cotton, 25% Polyester and 5% Spandex. It is because of their lightweight knit cotton blend that they have become the top pick for all women out there.
You will also see the presence of smocked elastic stretch waistband on it. The induction of functional side pockets, as well as decorative buttons, makes these HDE Women's High Waisted underbutt shorts super sexy looking.
Thus, wearing these shorts, you get a slimming and toned butt look. It is best to style up these shorts for your casual wear days.
Pros:
Lightweight knit cotton fusion.
Smocked elastic stretch waistband.
Decorative buttons.
Functional side pockets.
Lastly, we have BRUBOBO Women's High Waist underbutt shorts for you. These are Pocket Beaded Shorts which are ideal and great for summer season time.
Moreover, these shorts are made to control your tummy and to give a lifting look to your underbutt. Just the polyester fabric is used in the making of these underbutt shorts.
These chino shorts offer a classic fit and give the sexiest look to your bum. Most probably, for clubs, events or for casual evenings, these are ideal shorts for you.
So, are you going to get these high waisted front button shorts for yourself? It is their sexy looking four front button detailing which makes them super hot looking.
Pros:
Gives a classic fit.
Great for clubs and casual evenings.
4 front button detailing.
FAQ's
Conclusion –
Wrapping It Up!
Thus, it is this underbutt, the lower part of your glute muscles which make you stand out in the crowd if it is toned enough. Follow the above-written workout plan and get a beach body.
This workout will tone your underbutt and shall make it rounder as well as fuller-looking. For more details on yoga butt exercises, you can keep tuned with us.