It is completely possible to get a bigger bum without performing any sort of exercise. There are some natural ways to make your booty perfect in shape and sexy looking.
[su_note note_color="#e6e6e6″ text_color="#000000″]
If you do not want to involve yourself in these sweaty exercising modes, then by following the below-written guide you can smoothly make your bum thicker and sexier.
[/su_note]
Obviously one feels great if she has a nice toned big butt. So, without putting up tons amount of effort, check out these tips and easy ways to trim and shape up your bum.
Good Posture Gives Your Bum a Great Lift
It is true that a good posture is going to give your gum a great lift. This is an easy way to lift up your buttocks in a sexy way.
If you are going to practice better posture all the time, then your butt will automatically look great in shape.
[su_note note_color="#faede9″ text_color="#000000″]
No matter you are sitting or standing, follow this routine and give a balanced and appropriate lift to your bum. Great posture is also going to strengthen up your hip muscles.
Remember that weak posture is not at all going to show off your assets, we mean your buttocks.
Poor posture will make your body look messy, slumped as well as incredibly unattractive.  You will look defeated as you are going to walk all in a slumped pose.
[/su_note]
We can say that a great posture has much more to do with your bum. Your bum will look attractive, you will look good, you will also feel great if you are sitting or standing while maintaining an excellent posture.
[su_note note_color="##000000″]
Also Read: Flat Butt: Causes and Exercises
[/su_note]
Wearing Supportive Dressing Makes Your Bum Look Bigger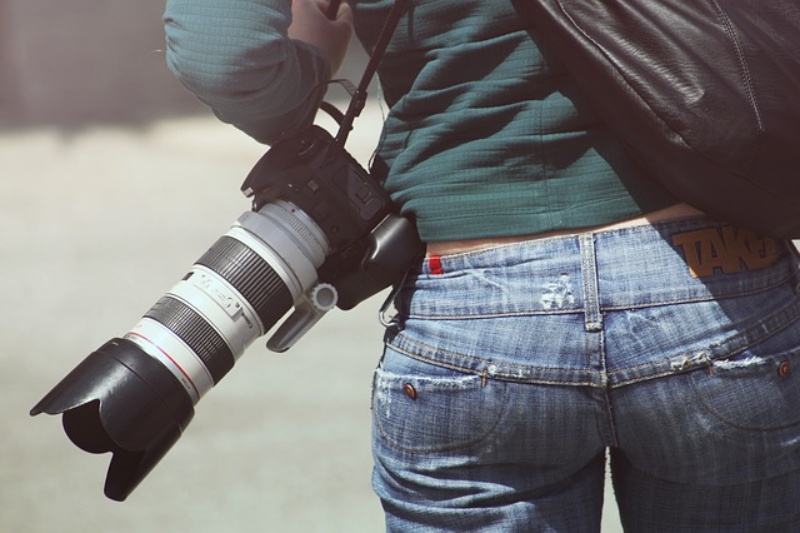 The other way to make your bum look bigger, sexier is to wear supportive dressing. Stop wearing all kinds of saggy panties. They will just give you a nanny look.
[su_note note_color="#e9f1fa" text_color="#000000″]
You can wear and put on some snug supportive garments so that your butt does not look sagging and instead look bigger and sexier.
Get some supportive garments for yourself and you will instantly see a great change in the shape and look of your bum.
Your booty is going to be lifted and it will stay upright by wearing such supportive dressing.
[/su_note]
Such undergarments have the potential to keep your booty in shape and act as a supportive lift for your backside.
Exfoliating your Bum will Make it Further Toned
It is by exfoliating that you can make your bum further toned. This exfoliation is going to increase the blood flow towards the area of your butt and this process will further revitalize and lift your buttocks.
Your bum will look healthy, tones and completely in a proper shape.
You can make a scrub by using coffee grounds, sugar and any of the essential oils. The caffeine which is present in the coffee grounds will make your bum firm and tighten.
This is a natural way to lift your butt without doing any exercise.
[su_note note_color="##000000″]
Also Read: How to Get a Toned Bum in 1 week
[/su_note]
Using Butt Enhancement Creams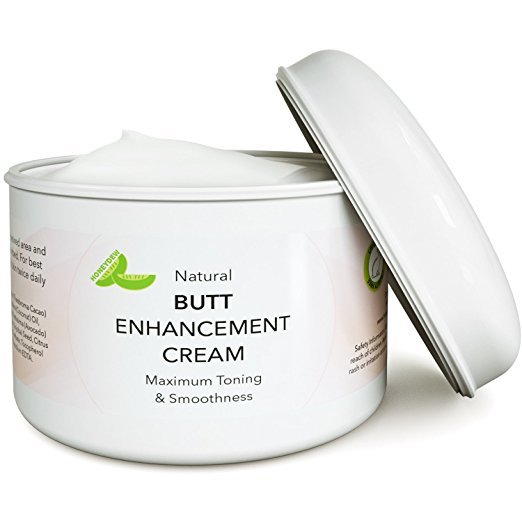 How about using these butt enhancement creams! There are a few of the butt enhancement creams which work in a miracle style.
[su_note note_color="#e7e8ea" text_color="#000000″]
You can search for the naturally made creams which make your bum bigger naturally. Such creams come with lower risk and lower side effects as well.
These bum enhancement creams are usually applied to the skin exactly in the same way as if you are using and applied body lotion.
[/su_note]
The ingredients present in these creams are going to be absorbed completely into your bloodstream and thus they will be transported to your buttock muscle cells.
Other Ways to Get a Bigger Bum Without Exercise
Certain foods are recommended which can give you a bigger booty. If you are going to feed your buttock muscles with the right amount of nutrients, then your bum will eventually get toned and back in perfect shape.
It is true that exfoliation and wearing supportive dressing, practicing and opting a good posture is important but one cannot find a substitute when it comes to a good diet for enhancing the shape of your booty.
[su_note note_color="#f4f9db" text_color="#000000″]
Protein intake is the ultimate booty muscle builder option for you. To get a firm booty, first, you have to develop and strengthen your booty muscles.
The protein contains amino acids and its great results are definitely going to show up on your booty. You can have lean proteins which include chicken, turkey, fish. They are one of the terrific sources to get a bigger butt.
You can also have protein shakes which are an excellent source of protein. On the other hand, you should avoid having excess protein intake.
This consumption will bring more fat on your bum.
You can too have complex carbs and good fats in your meals. This kind of intake will eventually lead to the rapid and instant development of your buttock muscles.
[/su_note]
Start having whole foods and avoid the processed ones. Stay away from white foods and processed bread. Eat sweet potatoes, good fats mainly include nuts, seeds, and olive oil consumption.
As soon as you will get in a process of slimming down yourself, your booty will automatically look bigger and extremely great in shape. Hence, there is a strong relation in slimming and trimming down yourself and making your butt look bigger.
[su_note note_color="##000000″]
Also Read: How to Get a Firm Bum in 2 Weeks
[/su_note]
Bottom Line!!
Lastly, you can have supplements if you eagerly want to get a bigger bum. You need to choose those kinds of supplements which will target your booty appropriately.
These days we have many booty enhancing supplements which comprise the right portion of nutrients and instantly gives you round and curvy butt.
These supplements are going to heighten the production of estrogen in your body.
This is the growth hormone that is responsible for the growth and toning of butt. So, to bring a huge difference in your butt shape, follow this simple routine and naturally enhance the look and shape of your bum.
More natural ways of toning your bum will be shared with you. Keep in touch with us.
[su_note note_color="##dbe6e9″ radius="4″]
[su_list icon="icon: chevron-right" icon_color="#13456b"]Related Articles:
[/su_list]
[/su_note]