Women are conscious about their skin and they follow specific skincare routines. They consider their necks and face a vital part that needs to look perfect all the time.
But the skincare includes other parts too that need equal care and attention. And specifically, those which are often neglected or left out. If you thought of your butt, then yes you are right.
Benefits

of Butt Scrubs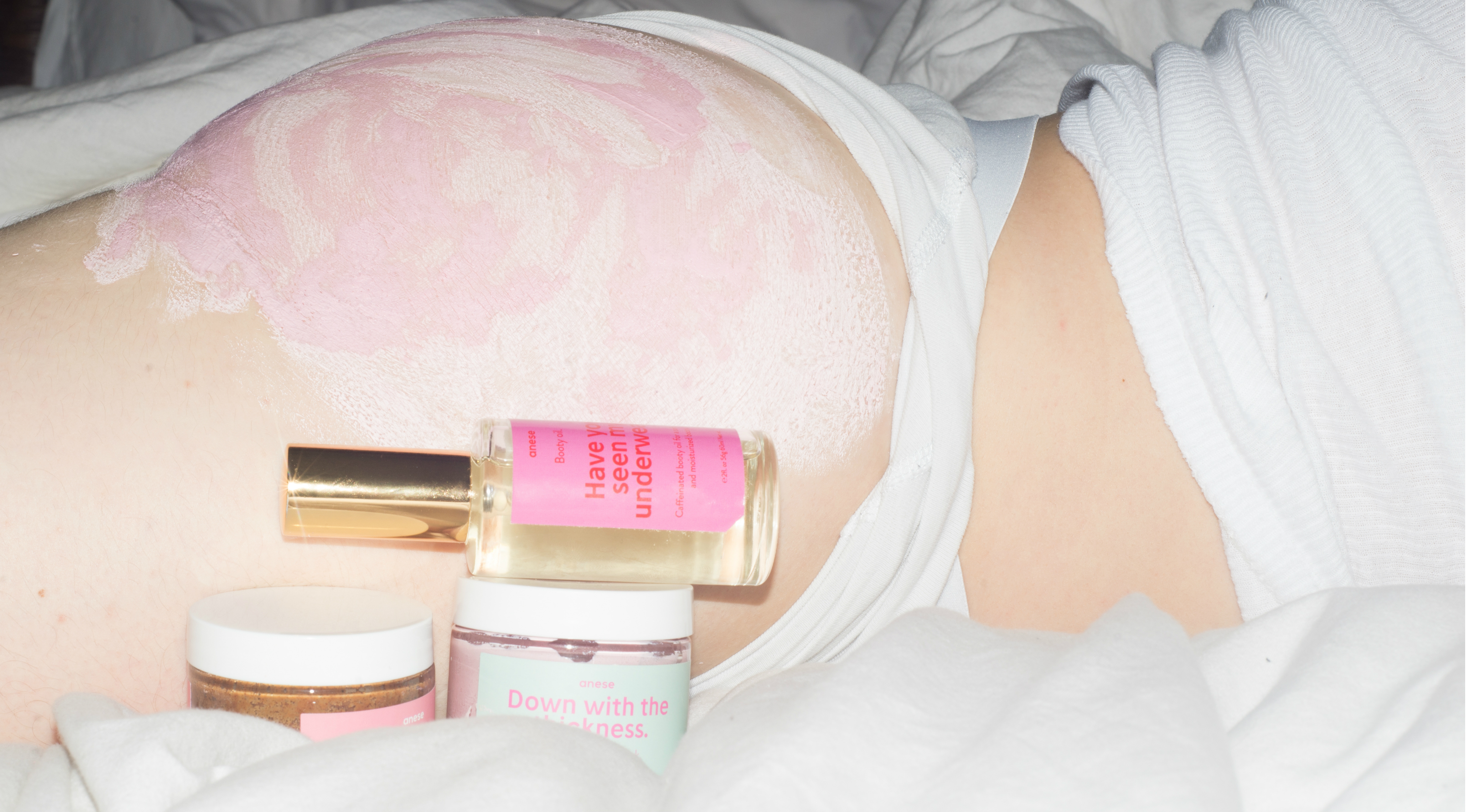 Below we have mentioned some plus points of using a butt scrub. As booty needs equal attention so you must know the perks of all the efforts you put in.
Smooth Skin
Scrubs and especially exfoliating scrubs are a great deal for dry, dull skin. We see that the skin of our butts gets most dried out and becomes dark too. But as we use scrubs, the results are fresh, bright and softer skin.
Each scrubs has its ingredients and benefits. Like sugar scrubs or those with glycolic acid. These sorts of scrubs are great for the skin and keep it smooth afterwards.
Moisturizer
The booty won't only become dull but dry as a desert sometimes and it can be a challenge to lock in some moisture. Again, scrubs prove themselves to be a life-saver with their natural ingredients.
These bring out the best of our skin and after a scrub session, lotions boost the moisturization. The skin feels a lot more hydrated and sheer. As all the dead skin cells are gone from your booty, left behind is smooth skin.
These scrubs are also great for acne and we all know how the acne scars can be. If those ugly marks can ruin our face then consider the damage they do on our butts.
The dreaded skin is not at all appreciated. Hence with the proper scrub used, you can flaunt your booty and have moisturized skin.
Long-Lasting Fragrance
Knowing that you have a long day ahead and have to wear jeans all the time. This can be a nightmare, especially in summers. The skin down there gets all sweaty.
This is where butt scrubs again jump into action and saves the day. These are full of amazing ingredients that have rich, delicious fragrances. So, when you use one of these scrubs, your pores are all clear afterwards. And you get that smooth, fragrant skin.
Natural oils that are a part of these scrubs come with lots of advantages. These keep you from sweating like hell and maintain a certain soothing aroma. 
How

To Apply Butt Scrubs?
Using a butt scrub is the same as using a body scrub. With these simple steps, you can learn how to apply it.
Your skin needs to soften up before you start scrubbing. So with some warm water, soften your skin. Avoid using hot water as it will only dry out the skin.
Now apply some scrub on the wet skin. Start with one area and scrub in a circular motion.
Scrubbing involves the right amount of pressure. So don't be too hard on your skin or too soft. Ensure that you are only applying the right amount of pressure.
Once you are done, wash your skin with warm water and ensure to get rid of all the remaining products. Pat dry with a towel and use some lotion or moisturizer with rich-formula.
You might not have a booty like some Hollywood star. Yet that can't stop you from swaying it or taking proper care of it. The problem comes when the butt also faces issues like face.
Acne, hyperpigmentation, fine lines, stretch marks and much more. So, the market has come up with some great products and treatments. These can help you with getting rid of cellulite, pimples and other problems.
Let's take a look at these amazing butt scrubs that will surely be your new favourite.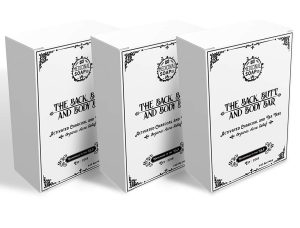 This product is one of the best sellers in the market. Made with all-natural ingredients, it would be a true blessing for your booty. If you are tired of acne breakout then this product is for you.
Each of the ingredients used in this scrub is safe and proves to be beneficial for the skin. The amazing formula works like magic without drying out the skin completely.
Activated charcoal and tea tree often used to treat the skin right so they can work wonders for your butt too. You can even use this scrub for back acne, face acne or ant inflamed skin problem.
With its antibiotic and anti-fungal properties, it keeps the skin safe from germs. The charcoal performs an in-depth cleaning and removes any dirt from the pores.
Further, these natural ingredients won't disrupt the natural pH of your skin. Instead, these provide a sheer, smooth skin that you would love to flaunt.
Pros:
Natural ingredients
Safe to use
Anti-fungal properties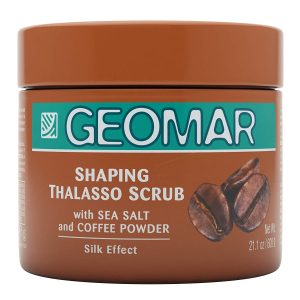 Coffee based products are always great for the skin and so is this body scrub. Loaded with minerals and anti-oxidants, it leaves behind moisturized, healthy-looking skin.
We all suffer from skin issues even on our butts like wrinkles, fine lines and so on. But these can be all gone with the sea salt that treats the skin and heals it.
The minerals in this scrub will ensure that you get rid of acne. These minerals are also anti-inflammatory to help you with inflammatory issues. But with this 21oz jar, you can have a long term journey of silky smooth skin.
If you are always a victim of cellulite then this scrub is your ultimate helper. Its ingredients can help you with fighting cellulite and finishing it. Say goodbye to ugly stretch marks. And welcome the new, rejuvenated, moisture-rich booty.
Pros:
Skin-protecting ingredients
Age-defying
Cellulite Buster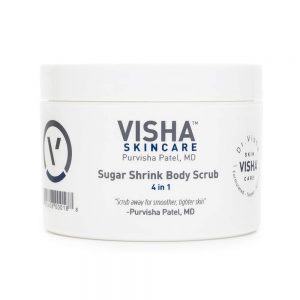 Most of the scrubs promise a lot but all we get is dry skin. But not anymore as here is a perfect, moisture-rich scrub for you. Coming with exfoliating properties, this scrub saves your butt.
The sugar scrubs are always a great option and leave behind refreshed skin. The same is the case with this body scrub that makes your skin baby soft. Made with natural oils and sugar, it cleanses the pores and put apart all the dirt.
Leaving behind a smooth skin that you instantly fall in love with. This single product is usable for your butt, body, face and even feet. So that you experience a whole new rejuvenated skin.
For locking the moisture, it has grape seeds along with avocado oil. The caffeine and antioxidants work like magic to ward off stretch marks or cellulite.
Pros:
Reduce cellulite
Exfoliator
Moisturizes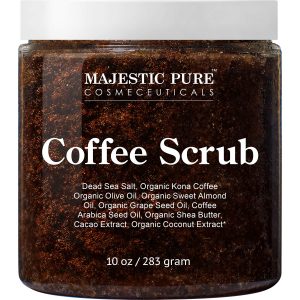 Another astounding product with rich, natural ingredients including coffee. This one work like magic for eczema, spider veins, and even age spots.
Finally, a product that will help you achieve a flawless booty that you can show off. Made with the premium-quality Arabic beans, this caffeine-based scrub is an optimal solution. It keeps the balance between moisturizing the skin and keeping it from dreading out.
The rejuvenating salts and oil leave behind a fragrant, smooth booty. You can bid farewell to cellulite and those stubborn stretch marks.
With coconut oil, shea butter the skin after use is creamy, moisture-laden and hydrated. And as for the Dead Sea salt, it works as a great detox. Who does not love a bit of detoxing?
Pros:
Reduce eczema
Natural ingredients
Affordable
Made with all-natural ingredients, this next product is one of the best in the market. This exfoliating scrub gently works on your skin for desired results.
The sea salts work wonder on your booty and ensure a softer, smooth skin. Unlike other scrubs, the formula is not harsh on the skin and won't dry it out completely.
This scrub comes with natural oils like sweet almonds, macadamia, avocado, and jojoba. All these provide the right amount of hydration to the skin.
The best part of this scrub is that it is free from any harmful ingredients. Things like sulfates, parabens, and phthalates are not present in this product.
Pros:
Vegan ingredients
Exfoliates
Economical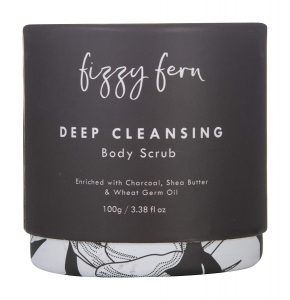 If you are also afraid to show-off that butt, then you need this product. Not only has it had amazing, quality results that will blow your mind. But it also has cruelty-free manufacturing.
The butt comes in contact with germs and microbes all the time and the result is acne, dead skin cells. This accumulation only adds up and makes the skin dry and dull.
But not anymore as the activated charcoal scrub comes with promising results. This premium-quality scrub removes bacteria from pores and leave behind clear, soft skin.
With shea butter, your dead skin is long gone and you get hydrated, moisture-laden booty. As for acne, there are more ingredients. Neem, fennel, and basil work like magic to help with acne issues.
Pros:
Toxins free
Cruelty-free
Softer skin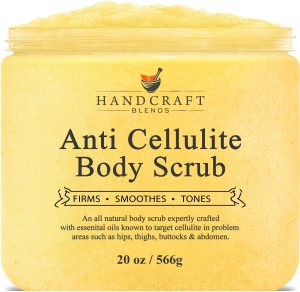 The only problem with butt is not acne. Sometimes we need a product to get rid of those ugly stretch marks and cellulite. Now, who would not prefer to have smooth, marks-free booty?
So here is one such rich, moisturizing product. This scrub is especially to get rid of cellulite. It works like magic on the skin and makes it firm and softer.
The astounding formula works to break down the stubborn fat cells so get the booty in shape. With salt grains infused in the scrub, it exfoliated the dirt particles from the pores.
Also, it removes any dead skin cells and you feel the instant softness.
You will experience a toned and firm skin that glows, all thanks to the ingredients. It comprises of vitamin C, Aloe Vera juice, sweet orange oil, and Dead Sea salt.
Pros:
Tones the skin
Natural ingredients
Anti-cellulite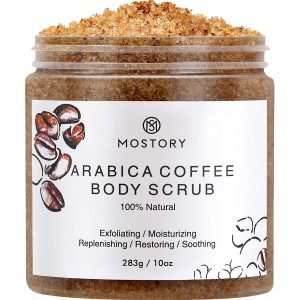 Loaded with minerals and anti-oxidants, it leaves behind moisturized, exfoliated skin.  Gone are the days when you had to worry about dead skin cells, fine line or wrinkles.
With the sea salt that treats the skin and heals it, you will get revitalized skin. These minerals are also anti-inflammatory to help you with inflammatory issues.
For those who are a victim of cellulite, this scrub is your ultimate helper. Its ingredients can help you with fighting cellulite and finishing it. Bye to those ugly stretch marks. And hello to the refreshed, moisture-rich booty.
Your skin will get the required vitamins like vitamin E and C along with natural oils. Coconut, jojoba and almond oil ward off all the ageing signs.
Pros:
Soothe the skin
Exfoliating factor
Affordable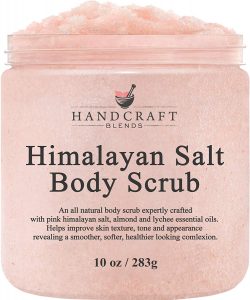 Who might have thought that salt would be such an astounding scrub? Well, it surely has turned out to be an awesome ingredient that works for various purposes.
With this Himalayan Salt scrub, you can get rid of those fat cells/cellulite. It stimulates your blood flow and provides gentle exfoliation.
Made with pure natural ingredients, this scrub is safe for all body parts and skin types. The essential oils and vitamins boost the skin and keep it nourished.
The salt grains promises to detoxify the skin and remove each impurity from the pores. So you get a soft, moisturized skin that feels great to touch.
Lychee and sweet almond oils are also added to help you with the stretch marks. These penetrate the skin to clear it out and rejuvenate it.
Pros:
Exfoliates skin
Cellulite fighter
Removes stretch marks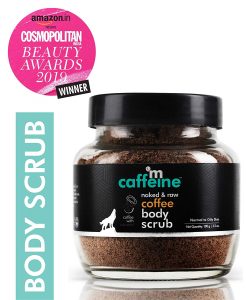 Now you can get a smooth skin that is free from cellulite with this single product. This scrub promises to perform multi-actions on your skin. And leaves behind a soft, rejuvenated booty that you would love to show-off.
The usage of this product is not bound to one or two body parts. This scrub is s suitable option for the whole body. Blackheads, clogged pores, tan, dead skin cells. In short, you can get rid of all such problems.
The premium quality ingredients and the formula works on all skin types. It has caffeine that tones down the skin and removes unwanted tan.
The creamy, coconut oil provides your skin with necessary nourishment and hydration. Apart from that, coffee ensures that your skin shines like the Sun. With gentle exfoliation properties, it removes all impurities.
Pros:
Improve blood flow
Revitalize skin
Deep cleansing action
Best Butt Scrubs –

Buyer's Guide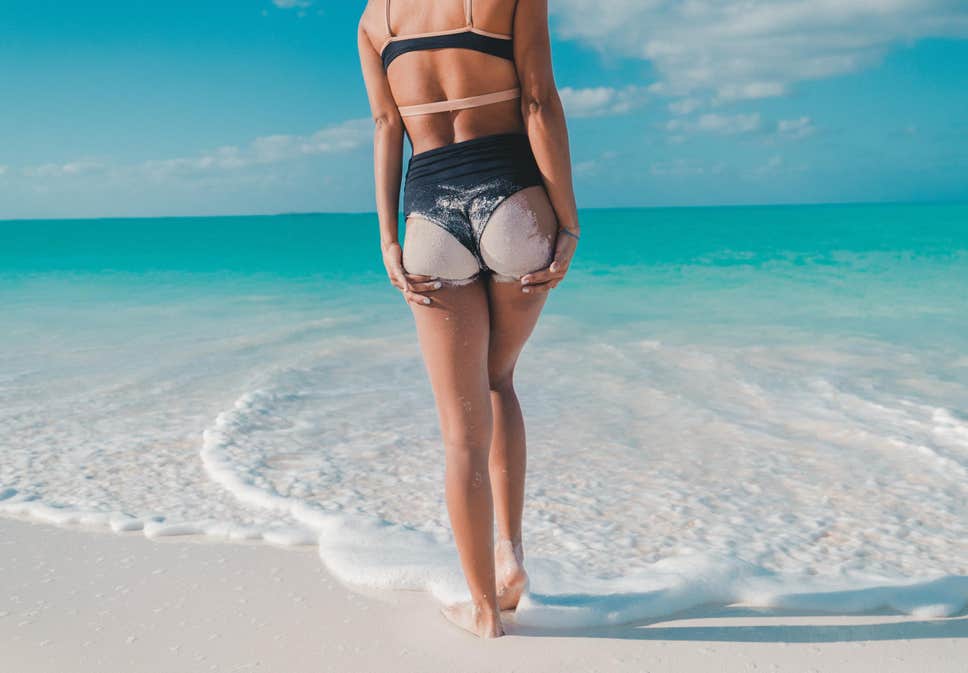 Follow up on these guidance tips to buy the right product for yourself.
Skin Type
Your skin is not like others, so this is a major aspect that needs your attention. The market has a lot of options for each skin type. If you are dry skin, you need something that keeps the moisture locked.
Or something with exfoliating properties.
If you have acne-prone skin then you need some action and acne-kicking ingredients. For sensitive skin, opt for something with mild ingredients. And for oily skin, look for options that control sebum.
Formulations
Apart from choosing the right type, you also need to pick up the right formula. These are either gel-based or cream-based. It depends on you which one suits your needs the most.
Gel-based formulas are a better option when it comes to summers or hot areas. These won't melt away or clog your pores. The light formula will keep you refreshed.
As for cream-based formulas, you can use them in winters for moisturized, smooth skin.
Conclusion!
We hope you will find this article helpful enough. But in case of any further queries, you can always contact us.
I am sure that you will love this article but if you find anything confusing you can ask us all the things you need to know.